28 September, 2017
Coorgi Masala Recipe
Posted in :
Condiments
,
garam masala
,
Indian Cuisine
,
Karnataka Cuisine
,
Kid Friendly
,
Masala
on
by :
ArchanaPotdar
Tags:
Condiments
,
Indian Cuisine
,
Karnataka Cuisine
,
Kid Friendly
,
Masala
Coorgi masala is simple and yet delicious.
The use of the spices in our backyard is quite common in Indian Cuisine so we have yummy masala. Each household has a different spice powder, forget household each individual member will make the masala a bit different. The subtle differences come from the differences in the freshness of the ingredients to the treatment of the ingredients.
Do try this delicious masala that Mrs Prasad my host at Coorg shared with me.
I reduced the quantities as rains were fast approaching and by the time I come back to one masala it needs t be binned. I reduced it to 1/4 the quantity.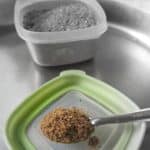 A simple yet delicious masala.
Roast the dhania seeds stirring constantly until reddish brown. Set aside in a plate to cool.

Roast the rest of the ingredients on low flame separately.

Transfer to the same plate as the coriander seeds.

Grind to a fine powder and store in an air tight container.
I reduced the ingredients by 1/4 and the amount I got was about 1/4 cup or what you can see in the image above.
​Hi! First time here? You are Most Welcome! I hope you keep coming back for more here. If you are my regular visitor then Thanks, for you encourage me to experiment more!! I would like you to please click on my link below and like my
Facebook Page
. I will be happy if you can follow me on on
Twitter
too!
​