3 January, 2017
Deep Fried Modak~ Ganesh Special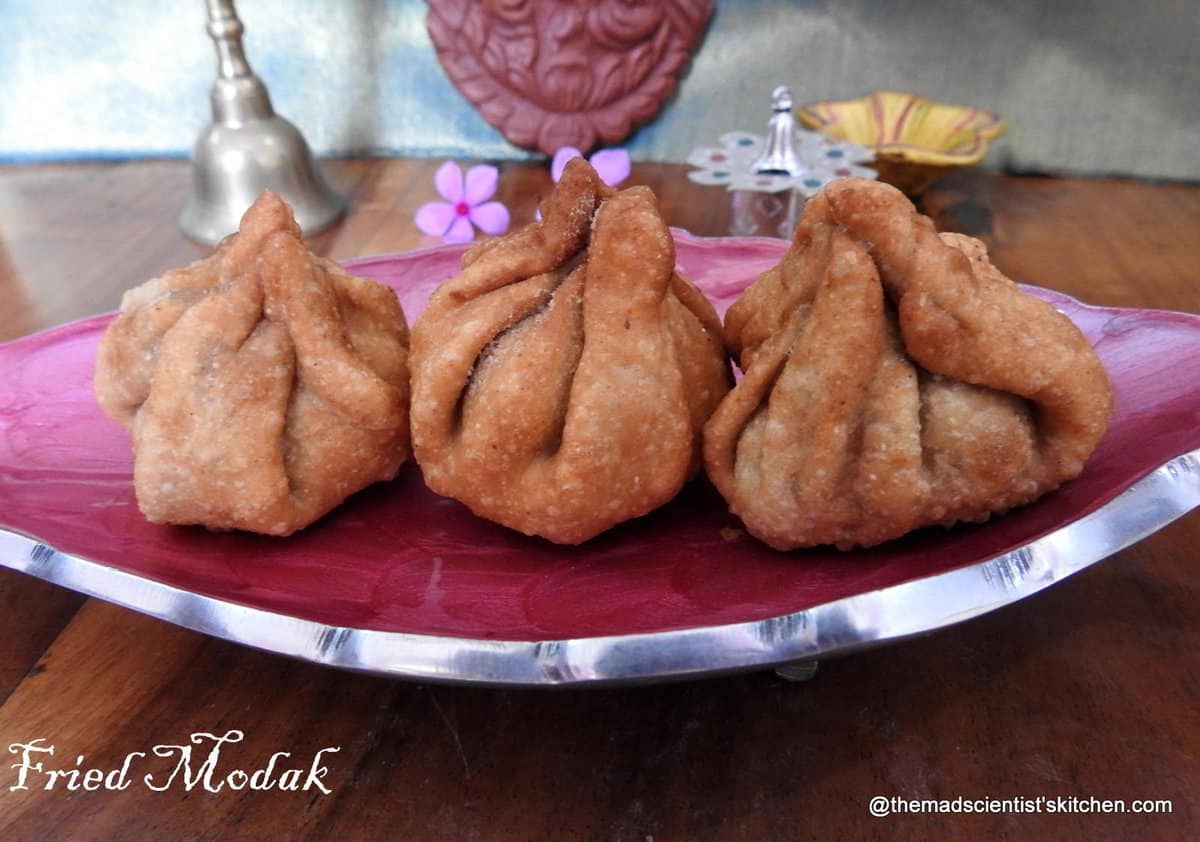 Comments : 20 Posted in :
Blogging Marathon
,
Deep Frying
,
Festive Cooking
,
Ganesh Festival Recipe List
,
Goan
,
Indian Cuisine
,
Karnataka Cuisine
,
Kid Friendly
,
Lists
,
Maharashtrian Cuisine
on
by :
ArchanaPotdar
Tags:
Blogging Marathon
,
Coconut
,
Deep Fried Modak
,
Ganesh Festival recipe List
,
Indian Sweets
,
jaggery
,
oil
,
whole wheat flour
Deep-fried modak are obviously deep-fried in oil, unlike the steamed Modak. The shell of the deep fried modak is made from whole wheat flour and the stuffing is traditionally jaggery and fresh coconut.
The fried modak last longer and taste different. Also unlike the Ukdiche modak where you get the finesse after practice, this modak does not need it.
A modak (Marathi: मोदक) is a sweet dumpling popular in Maharashtra, India.  Modak is common in Marathi, Konkani and Gujarati language. In Malayalam, Kozhakkatta (കൊഴുക്കട്ട), modhaka or kadubu in Kannada, modhakam or kozhakkattai in Tamil, and kudumu in Telugu.  Quite a few names and why not it's a yummy tasting dish and hence very popular.
Generally, the sweet filling inside a modak is fresh grated coconut and jaggery. The shell varies a modak can be made from rice flour, or wheat flour and maida flour. The rice shell dumpling is steamed. This steamed version is called ukdiche modak eaten hot with ghee. The wheat flour ones can be steamed or fried; in case they are steamed, they have to be eaten hot again with ghee.
Modaks have a special importance in the worship of the Hindu god Ganesha;modak is believed to be his favorite food, which begets him the moniker modakapriya (the one who likes modak) in Sanskrit. During the Ganesha worship ceremony, known in Maharashtra as Ganesha Chaturthi the puja always concludes with an offering of twenty-one modaks to the deity and as prasadam. Modaks made with rice flour shell are preferred for this purpose, however, wheat shell version are also used. Innovative recipes for modaks have also been created. These include banana nachni modak, motichoor modak[1] and chocolate modak.
I was surprised when my girls liked Ukdiche Modak so I went ahead and made the deep fried ones. One more addition to my Ganesh Festival List.
Deep Fried Modak
Ingredients:
For the shell of the Modak:
2 cups whole wheat flour (atta)
½  teaspoon salt
2 teaspoon warm oil +2 teaspoon
Water to knead as needed
For the filling of the Modak:
1 cups grated or powdered jaggery
1 ½  cups fresh grated coconut
1 ½  teaspoon cardamom powder or crushed cardamom
Method:
Let us first prepare the filling:
In a thick bottomed kadhai/wok mix the jaggery and coconut.
Cook on a low or medium flame till the mixture is dry and cooked.
You will have to stir the mixture.
Keep aside to cool.
As the filling is cooking let us prepare the shell or the covering dough:
Mix the salt and the wheat flour and 2 teaspoons oil well with sufficient water to make a smooth dough.
Apply the last 2 teaspoons of oil over the dough.
Cover and keep the dough aside for 20-30 minutes.
Assembling the Modak:
Make 10-12 small balls from the dough.
Roll one at a time thin in a circle.
In your palm place, the circle add the filling in the centre.
Pinch the edges to form a cup.
Bring the pinched edges together in the centre. Seal well you do not want the modak opening up in oil.
Deep fry the modaks in medium hot oil till golden browned.
Drain on kitchen towels.
Notes:
Use 1-2 tsp of rava in the dough the shell is crisp.
In case you wish you can use 1 cup of maida or APF and one whole wheat atta to make the shell.
Check out the Blogging Marathon page for the other Blogging Marathoners doing this BM#72
Archana
​Hi! First time here? You are Most Welcome! I hope you keep coming back for more here. If you are my regular visitor then Thanks, for you encourage me to experiment more!! I would like you to please click on my link below and like my
Facebook Page
. I will be happy if you can follow me on on
Twitter
too!
​
20s COMMENTS