25 December, 2016
Spread the Joy with Chocolate Bark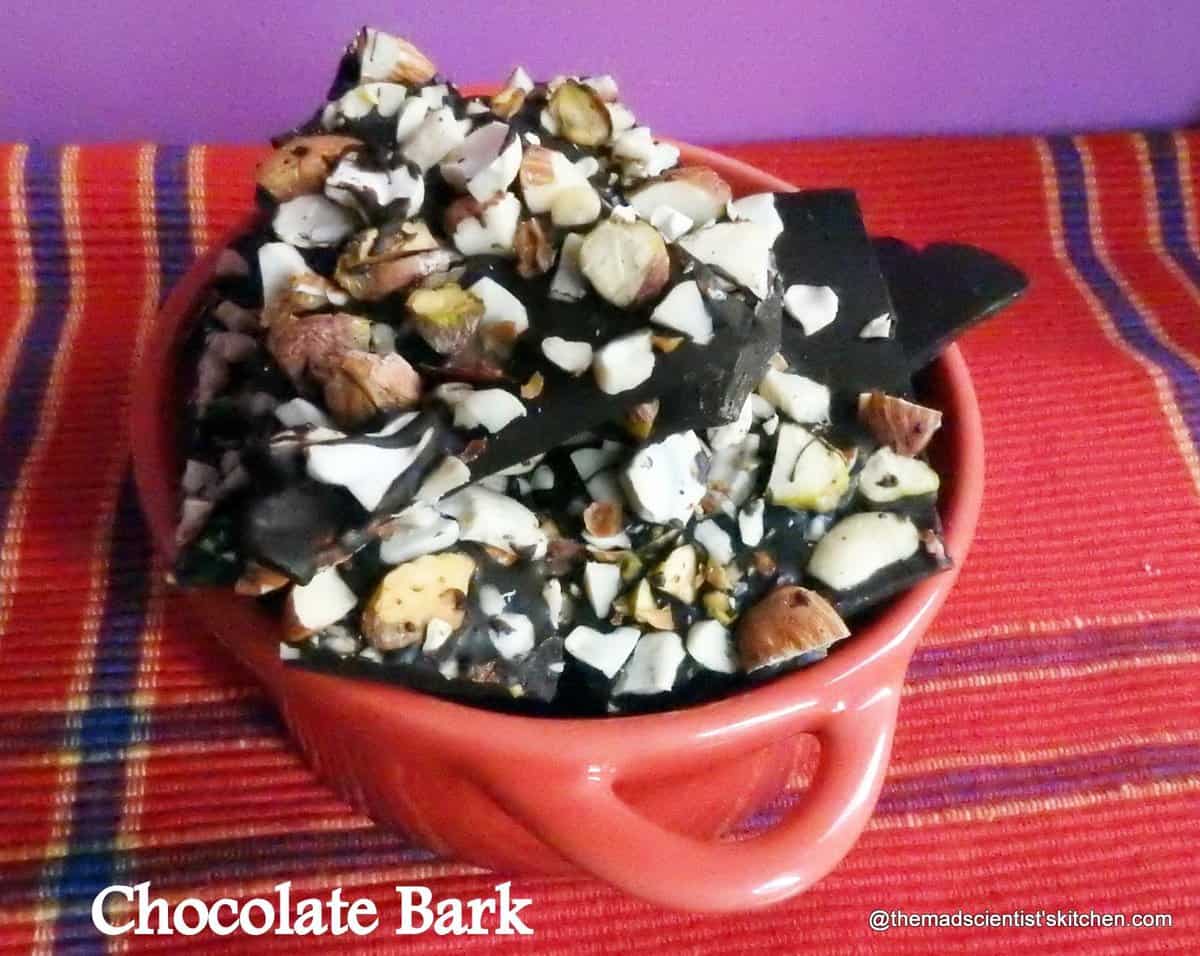 Comments : 2 Posted in :
Bachelor Recipes
,
Christmas List
,
Dark Chocolate
,
For Chocoholics
,
Kid Friendly
,
Lists
,
Nuts
,
Raisins
,
Simple and Healthy Vegetarian Diet in Old Age
on
by :
ArchanaPotdar
Tags:
Chocolate
,
Chocolate Bark
,
Recipe List for Christmas
,
Spread the Joy
Just recently my social feeds were had this delicious Chocolate Bark.
Looks like it's not just me who thinks Christmas it is nothing else but Chocolate?
The colours of different chocolates used and the various nuts used made me drool over them.
Like all other chocolate recipes, this one needed to be made and I made it almost immediately (chocolate and me are not too far off from one another).
But what is chocolate bark?It sounds so awful and unappetising, I mean we have tree barks and we have dogs bark but chocolate bark?
Actually, it's chocolate that is decorated in a rustic way.
Rustic?
Yes rustic, you can have additions of just about anything from nuts, raisins, chocolate (the sky is your limit) there is no specific way or method in adding the toppings. The chocolate is then broken into pieces and served in different sizes. The chocolate is called as chocolate bark because it looks like tree bark in the box.
I have now made it twice the first time I had grumblings from hubby and the kiddo, hubby for using up what he calls all the nuts he brought for himself and the girl for wasting chocolate… yes wasting chocolate. She kept on dipping her spoon in the bowl and I was worried she might accidently use a wet spoon and the chocolate might seize up.
Coming to the recipe there is no recipe
Just melt the chocolate and pour it on a slightly greased foil.
Spread to desired thickness and sprinkle the nuts on top.
Cool in the fridge. After about 10-15 minutes remove break in pieces. Serve.
Yes, you can store in airtight container in the fridge. (If you can leave it alone).
Enjoy!!!
Linking up to my Christmas List and event Spread the Joy, send me links to what you make this Christmas!!
​Hi! First time here? You are Most Welcome! I hope you keep coming back for more here. If you are my regular visitor then Thanks, for you encourage me to experiment more!! I would like you to please click on my link below and like my
Facebook Page
. I will be happy if you can follow me on on
Twitter
too!
​
2s COMMENTS