20 December, 2012
Butter Cholay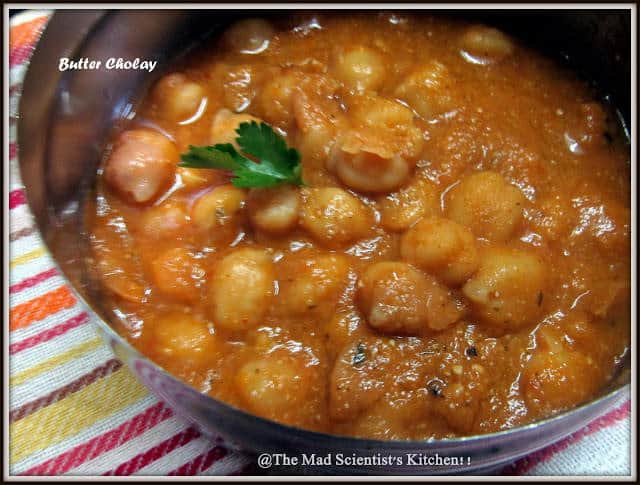 Comments : 21 Posted in :
Bachelor Recipes
,
Indian Cuisine
on
by :
admin
Tags:
Accompaniments
,
Butter Cholay
,
Gravy
,
Side Dish
Birthdays  are celebrated in a big way in our Office. The birthday boy or girl is expected to throw a treat big or small and we all wait for the treat. Greedy gluts that we all are J . Generally we have something that is quite filling. Like
bhaji pav
(not
pav bhaji
mind you but bhaji pav–the Goan style), or chaat, idli vada etc.
The wishing done bouquet handed over and the food devoured at our worktables we are all back to work.
We discuss what has just eaten and the ingredients and how I make it and …. You get tageneral idea.
This time around when we were served bhaji pav, I was a bit busy so I just looked at the red bhaji and wondered what the stuff was and continued with what was at hand.  After I finished my call my neighbour told me to just taste the bhaji and see.  Fearing the worst I tasted just the bhaji and was transported to those carefree days when weight was not a problem. Tucking food in was not tucking in sugars, cholesterol and it was sheer pleasure.
 The gravy was butter chicken gravy and cholay buried under the gravy!! Something that I had forgotten about!! How can I not make it at home? Then not share it here, my wonderfully supportive family in the Blog World, especially since I can still hear the compliments that came my way.
Well taking into consideration that hubby and FIL need to take care of cholesterol I avoided khoya or mava. I felt that the dish was not exactly butter chicken gravy but came close to it but like I said I had no complaints.
Do not let the long ingredients list put you off. It's all there in your pantry.
Ingredients:
250 grams Cholay, soaked overnight and boiled
4 onions, peeled and cut in coarse pieces
3 big tomatoes, blanched
1 bulb garlic
1 inch piece of ginger
1/2  tsp coriander seed
1/8 tsp jeera
1 inch piece of cinnamon1 Laung/cloves
2-3 pepper corns
1 green cardamom
1 tsp red chilli powder
¼ tsp pav bhaji masala
1 Badi elichi (optional)
¼ cup magza seed or melon seeds (substitute with cashew nut say 2 tblsp or 8 -10 seeds)
1 cup thick milk (I used left over milk that had become quite thick with repeated heating)
1 tbspn  kasuri methi
Oil
Butter
Salt
Sugar to taste
Method:
Boil the onions in a little water. Drain and transfer to the mixer jar.
In the chutney pot of the mixer grind the magza seeds (toast them first).
Grind the onion, garlic, ginger, coriander seeds, jeera, clove, cinnamon, peppercorns, and cardamom to a fine paste.
In a thick kadhai/wok add the oil and then the butter. Add the badi elichi if using and fry.
Add the ground paste to the oil butter mix and stir fry on low flame till the oil separates.
As this is frying add the blanched and peeled tomatoes to the mixer jar and puree the tomatoes.
Add the pureed tomatoes to the kadhai/wok and fry till oil separates.
Add the toasted magza seeds and stir.
Add the boiled cholay, kasuri methi, salt and let it boil for a few minutes. When the gravy thickens a bit add the milk and bring to boil again.
Adjust the seasoning add the pav bhaji masala and the red chilli powder and let the gravy thicken.
Serve hot with rotis, puri or even steamed rice.
Linking to
 WTML Hosted by Nithu's Kitchen.
EP Series Hosted by Vidya
My Legume Love Affair Hosted by Saffron Streaks
Make it Pretty Monday
All rights reserved on photographs and written content are copy-written @The Mad Scientist's Kitchen!! unless mentioned. Please Ask First


Facebook Page
. I will be happy if you can follow me on on
Twitter
too!
​
21s COMMENTS