22 February, 2012
Homemade Delicious Biryani Masala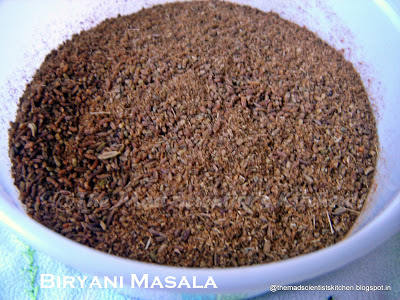 Comments : 12 Posted in :
Condiments
,
Masala
on
by :
admin
Tags:
Biryani masala powder
,
Condiments
,
Homemade Delicious Biryani Masala
,
How to make Homemade Delicious Biryani Masala
,
How to prepare Homemade Delicious Biryani Masala
,
Masala
I am definitely in love with this Biryani masala. It unfailing gives you an amazingly aromatic Biryani.
 I do not know the name of the author of this post nor the site that I have downloaded this as it was something I did ages ago.  In case you know whose post this was please let me know so that I can link it back.
It is called
Mutta/Egg Biryani-Malabar Style
. I will post the biryani recipe eventually as in the recent reformatting I have lost all my drafts and have no desire to start typing all over the same stuff again.
As it is I have got my younger kid to volunteer typing out the ingredients and method.
Ingredients:
½ tsp fennel seeds( saunf)
½ tsp cumin seeds
½ tsp shajeera/caraway seeds
4 cloves
1 cardamom
1 flat cinnamon (1-inch length)
¼ tsp grated nutmeg
1 whole mace
Method:
The recipe says grind everything to a fine powder but I have found slightly roasting it give a delicious aroma. The yield is two teaspoons.
.
Hi! First time here?
You are Most Welcome! I hope you keep coming back for more here. If you are my regular visitor then Thanks, for you encourage me to experiment more!! I would like you to please click on my link below and like my Facebook Page. I will be happy if you can follow me on on Twitter too!
12s COMMENTS